Evènements
Réouverture de la boutique!
SOUFFLE CONTINU est à nouveau ouvert au public du lundi au samedi de 11h à 18h.

Le "Click & Collect" s'inscrit dans la durée et reste opérationnel.
Pour cela, faites vous plaisir ici et sélectionnez "retrait sur place" au moment de la validation / checkout.

Les retraits des commandes sont ensuite possible à n'importe quel moment aux horaires d'ouverture de la boutique.

Merci à tous pour votre soutien indéfectible et surtout prenez bien soin de vous en attendant les jours meilleurs ! [...]


La Boutique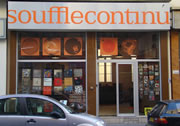 20-22 rue Gerbier
75011 Paris
M° Philippe Auguste
M° Voltaire

Restez informés !

Souffle Continu

Commentaires :


- Commentaire de : soufflecontinu (2010-12-16)
foetus - hide
HIDE features ten new compositions by JG Thirlwell, who describes it as a "neo-symphonic avant-psychedelic concept album informed by the culture of fear". Kicking off with a nine minute operatic opus featuring the guest vocal talents of opera singer Abby Fischer, HIDE is an immersive album infused with strands of progressive and contemporary classical, as well as Thirlwell's twisting cinematic journeys, bombast and sombre interludes. Thirlwell produced the album and performs most of the music. Also guesting on the album are long time collaborator Steven Bernstein on trumpet and Leyna Marika Papach from Thirlwell's Manorexia ensemble on violin. In addition Elliot Hoffman of Carbomb plays drums on a track, and there are appearances from Ed Pastorini, Jeff Davidson and Christian Gibbs (Lucinda Blackbear).
Sur le même Label

Genre similaire