Evènements
Vendredi 16 octobre 2020 - 19h30
Jazz & Musiques Libres à Berthelot #4
Sylvain KASSAP + Benjamin DUBOC DUO.

ENTRE LES TERRES - CORNELOUP/MOLARD QUARTET

Jacky MOLARD - François CORNELOUP - Catherine DELAUNAY – Vincent COURTOIS.

PAUL WACRENIER HEALING UNIT invite MICHEL EDELIN

Paul WACRENIER - Xavier BORNENS - Arnaud SACASE - Blaise CHEVALIER - Benoist RAFFIN + invité Michel EDELIN.

Théâtre Municipal Berthelot Jean-Guerrin
06, Rue Marcelin Berthelot - 93100 Montreuil
Métro : Croix de Chavaux
Tel : 01 71 89 26 70 - resa.berthelot@montreuil [...]


La Boutique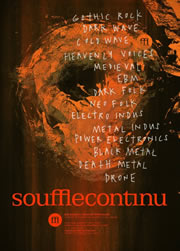 20-22 rue Gerbier
75011 Paris
M° Philippe Auguste
M° Voltaire

Restez informés !

Souffle Continu

Commentaires :


- Commentaire de : soufflecontinu (2010-09-15)
fire! - you liked me five minu
This is the debut full-length release from excellent Swedish jazz trio, Fire! -- something of a supergroup with members from already well-known quarters. Sax player, improviser and composer Mats Gustafsson is probably best-known from power-jazz trio The Thing, but he has also played more than 1,500 concerts and participated on around 150 records with musicians such as Peter Brötzmann, Sonic Youth, Merzbow, Jim O'Rourke, Barry Guy, Otomo Yoshihide, Ken Vandermark, Hamid Drake, Derek Bailey, Evan Parker, Joe McPhee, and countless others. Johan Berthling is a founding member of Tape and founded the Häpna label. His other current groups include Animes with David Stackenäs and Raymond Strid and Sten Sandell Trio with pianist Sten Sandell and drummer Paal Nilssen-Love. Andreas Werliin is the drummer extraordinaire in Wildbirds & Peacedrums with fellow improv colleague, Mariam Wallentin, and they have released two acclaimed albums of modern, bluesy folk music. The collaboration of Fire! don't sound anything like the groups the members are normally associated with, which is exactly the way it should be. With their hypnotic, psychedelic jazz of sorts, they don't sound like anyone else at all. CD edition includes a 16-page color booklet, masterfully and beautifully designed and assembled by Kim Hiorthøy. Fire! is: Mats Gustafsson (saxophones, electronics, Fender Rhodes), Johan Berthling (double bass and electric bass, electric guitar, Hammond organ), and Andreas Werliin (drums and percussion).
Sur le même Label

Genre similaire