La Boutique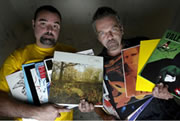 20-22 rue Gerbier
75011 Paris
M° Philippe Auguste
M° Voltaire

Restez informés !

Souffle Continu

Commentaires :


- Commentaire de : soufflecontinu (2010-09-16)
karjalan sissit - fucking whor
At last, Karjalan Sissit return after 4 years of relative silence with their most obscure and harshest work ever. Fucking whore society is an anger and Vodka fueled bombastic opus inspired by the world's psychopathic state. A revolt against the cruel and sickly ways of today's society and a visceral and personal statement denouncing betrayal. Karjalan Sissit have masterfully expanded their signature sound with dense ambient passages and unsettling vocals all combined with their intensely unique orchestral passages, presenting us their best and most intense work yet. Produced by Peter Bjärgö (Arcana / Sophia) Edition of 2000 copies In A5 gatefold cardboard sleeve.
Sur le même Label

Genre similaire