La Boutique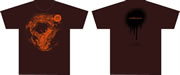 20-22 rue Gerbier
75011 Paris
M° Philippe Auguste
M° Voltaire

Restez informés !

Souffle Continu

Commentaires :


- Commentaire de : soufflecontinu (2010-09-16)
karjalan sissit - karjalanta k
The Finnish pioneer is back from the degenerated and alcoholized Swedish ghetto of Eskilstuna. 3rd full lenght from Markus Pesonen who now dove deeper into total Melancholy, Anti socialism, Bitterness, Disintegration and Alcoholism. Filled with what has defined KARJALAN SISSIT's sound thus far; Bombastic outbursts of Neo classical arrangements entwined in traditional Finnish Humppa and deep industrial sonorities. The songs were this time fiercly enhanced with some added vocals giving the whole album a much more agressive touch. Again produced by Peter Bjärgö at Erebus Odora, this new album definitely stands above it's predecessors.
Sur le même Label

Genre similaire