Evènements
Vendredi 16 octobre 2020 - 19h30
Jazz & Musiques Libres à Berthelot #4
Sylvain KASSAP + Benjamin DUBOC DUO.

ENTRE LES TERRES - CORNELOUP/MOLARD QUARTET

Jacky MOLARD - François CORNELOUP - Catherine DELAUNAY – Vincent COURTOIS.

PAUL WACRENIER HEALING UNIT invite MICHEL EDELIN

Paul WACRENIER - Xavier BORNENS - Arnaud SACASE - Blaise CHEVALIER - Benoist RAFFIN + invité Michel EDELIN.

Théâtre Municipal Berthelot Jean-Guerrin
06, Rue Marcelin Berthelot - 93100 Montreuil
Métro : Croix de Chavaux
Tel : 01 71 89 26 70 - resa.berthelot@montreuil [...]


La Boutique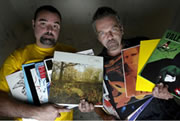 20-22 rue Gerbier
75011 Paris
M° Philippe Auguste
M° Voltaire

Restez informés !

Souffle Continu

Commentaires :


- Commentaire de : soufflecontinu (2010-12-24)
agalloch - marrow of the spiri
Pacific Northwest dark metal band Agalloch is an entity like no other in the metal scene. Building on a foundation of black metal and neo-folk with lyrics exploring heathen lore, they add influences from post-rock, noise, experimental and ambient music for something distinctly their own. Over the course of their fifteen-year existence, they have released three full-length albums, a handful of EPs, and amassed one of the most dedicated followings of diehard fans in the realm of underground extreme metal. The group is fast approaching legend status. Marrow of the Spirit, Agalloch's fourth album, is the band's defining statement and the first metal release of the new decade that can truly be considered a masterpiece. Darker, colder and more aggressive than anything they have done in the past, it is their most accomplished work to date. Quite simply, Marrow of the Spirit is Agalloch at the height of their powers.
Sur le même Label

Genre similaire