La Boutique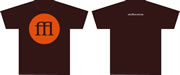 20-22 rue Gerbier
75011 Paris
M° Philippe Auguste
M° Voltaire

Restez informés !

Souffle Continu

Commentaires :


- Commentaire de : soufflecontinu (2010-09-17)
jack rose - kensington blues
"Kensington Blues, the fourth full-length release from Jack Rose, is an inspired mix of styles and sounds that brings his in-person steel string guitar mastery down to CD scale. This is Rose's most diverse outing by far, with straight ragtime, heavy 12-string, and that sweet, sweet Weissenborn lap guitar all checking in. Honed during endless touring in 2004, the repertoire here is delivered with maximum authority in a series of first-take performances recorded in early 2005."
Sur le même Label

Genre similaire