La Boutique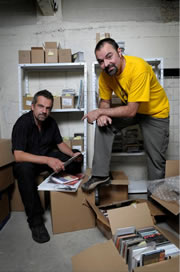 20-22 rue Gerbier
75011 Paris
M° Philippe Auguste
M° Voltaire

Restez informés !

Souffle Continu

Commentaires :


- Commentaire de : soufflecontinu (2010-09-17)
jack rose - raag manifestos
"Compiled from a variety of sources, Raag Manifestos cuts across various acoustic styles much like Rose's Opium Musick LP, but with a more aggressive attack. 'Black Pearls from the River' and 'Hart Crane's Old Boyfriends' are dense, serious assaults on the 12-string, with the intensity of the latter enhanced by Ian Nagoski's roaring electronic backdrop. With subtle tabla accompaniment by Eric Carbonara, 'Crossing The Great Waters,' is another epic modal journey in the style of Pelt's 'Road To Catawba' and Rose's own 'Red Horse.' The traditional 'Blessed Be the Name of the Lord' finishes off the CD on a calming note. In mini-gatefold."
Sur le même Label

Genre similaire