Evènements
Vendredi 16 octobre 2020 - 19h30
Jazz & Musiques Libres à Berthelot #4
Sylvain KASSAP + Benjamin DUBOC DUO.

ENTRE LES TERRES - CORNELOUP/MOLARD QUARTET

Jacky MOLARD - François CORNELOUP - Catherine DELAUNAY – Vincent COURTOIS.

PAUL WACRENIER HEALING UNIT invite MICHEL EDELIN

Paul WACRENIER - Xavier BORNENS - Arnaud SACASE - Blaise CHEVALIER - Benoist RAFFIN + invité Michel EDELIN.

Théâtre Municipal Berthelot Jean-Guerrin
06, Rue Marcelin Berthelot - 93100 Montreuil
Métro : Croix de Chavaux
Tel : 01 71 89 26 70 - resa.berthelot@montreuil [...]


La Boutique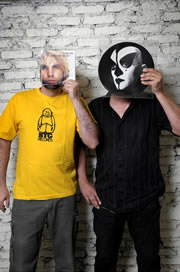 20-22 rue Gerbier
75011 Paris
M° Philippe Auguste
M° Voltaire

Restez informés !

Souffle Continu

Commentaires :


- Commentaire de : soufflecontinu (2010-12-24)
theologian - the further i get
Over the course of three albums and a number of other releases, New York's Navicon Torture Technologies blurred the edges of power electronics and dark industrial before ceasing operations in 2009. Now reconstituted as Theologian, Navicon mastermind Leech continues his exploration of the further realms of experience with a new form of blackened synth dread that combines the previous project's crushing electronic attack with increased heaviness and droneological power. Following a series of small-run collaborations with Wilt, Steve Moore, and The Vomit Arsonist released on Leech's own Annihilvs label, Theologian delivers their debut full-length The Further I Get from Your Star, the Less Light I Feel on My Face, a seven-track descent into roaring, cosmic drone, howling electronics, colossal industrial soundscapes and grim, low-end heaviness. The album draws from several strains of extreme music--Swedish death industrial, classic power electronics, dark ambient--and adds an underlying melodic presence; the music is harsh, often hellish, but retains an icy, desolate beauty. The Further I Get from Your Star comes packaged in a deluxe DVD-style digipack featuring Leech's striking artwork and visual design.
Sur le même Label

Genre similaire