Evènements
Réouverture de la boutique!
SOUFFLE CONTINU est à nouveau ouvert au public du lundi au samedi de 11h à 18h.

Le "Click & Collect" s'inscrit dans la durée et reste opérationnel.
Pour cela, faites vous plaisir ici et sélectionnez "retrait sur place" au moment de la validation / checkout.

Les retraits des commandes sont ensuite possible à n'importe quel moment aux horaires d'ouverture de la boutique.

Merci à tous pour votre soutien indéfectible et surtout prenez bien soin de vous en attendant les jours meilleurs ! [...]


La Boutique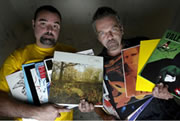 20-22 rue Gerbier
75011 Paris
M° Philippe Auguste
M° Voltaire

Restez informés !

Souffle Continu

Commentaires :


- Commentaire de : soufflecontinu (2010-09-15)
herbie hancock - blow up ost
"In late 1966, Herbie Hancock with Freddie Hubbard, Joe Henderson, Ron Carter and Jack DeJohnette entered a New York studio to capture the vibe of 'swinging London' in a jazz mode -- with grooves that create effective bluesy moods on the slow pieces and funky ones on the up-tempo tracks. Meanwhile in London, the Yardbirds (with Jeff Beck and Jimmy Page) were recording additional material for use in the Blow-Up movie soundtrack. Liner notes by maverick journalist Steve Dollar. Superb audiophile remastering." 180 gram HQ vinyl. Gatefold sleeve.
Sur le même Label

Genre similaire